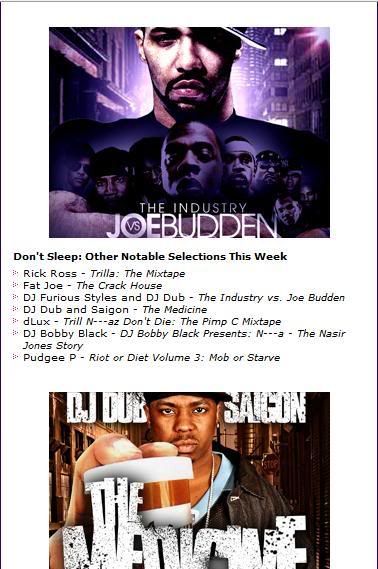 Okay...Welcome to the intro...we're officially launching next week so check back then for a full dose of the dub sack...
In the meantime, sign up for the blog as well as my podcasts...
SAIGON - THE MEDICINE
Saigon has consistently made a name for himself, stemming from a jail stint to the year 2000 to signing to Just Blaze's Fort Knox imprint. Recently, Sai-giddy has been on the tips of many rappers tongues between his well-publicized fight with Prodigy to the now-infamous "I Quit" blog entry announcing his retirement. As the fourth quarter rages on, the amount of potent releases have been reducing and with his album,The Greatest Story Never Told hovering in release date limbo, Saigon's The Medicine mixtape couldn't come at a better time.
On "The Medicine", Saigon chops it up with DJ Dub candidly about what bothers him in the industry, street life and more. The collection of songs on this mixtape reflect Saigon's rise to power as one of the anticipated MCs of today. With production from Alchemist, EZ Elpee, Just Blaze and more, Dub captures the essence of what the streets need from a MC in this day and age. So cop two of these mixtapes and call me in the morning.
1. Intro
2. Come on baby w/ jay-z
3. Saved - w/ 9th wonder/ joe scudda
4. Just Blaze Shit
5. Live on Ridin Big Radio Pt 1
6. Lames
7. What a Life w/ tre williams
8. Homegirl
9. Hip-Hop w/ mary j blige
10. Dreamz
11. Say yes
12. Live on ridin big radio pt 2
13. Stocking cap
14. Wanna Know Remix - w/ Obie Trice
15. The Raw - w/Dj Dutchmaster/Inspektah Deck/Bekay
16. Contraband 2
17. True Story
18. Letter P - w/ Kool G Rap
19. Shot In The Booty
20. Not My Baby w/ Razah
21. Pain In My Life Remix w/ BG / The Game
22. North South East West
23. Saigon Meets Just Blaze
24. In A Mess
25. Saigon Live On Ridin Big Radio
26. PREMIUM DUB SACK PIFF BANGERS
26. Remo Da Rapstar / Richie Sosa - I Bang
27. Do You Know (Cookin Soul Remix)
I know, wow...already!!!
WHAT??? RIDIN BIG RADIO WHENEVER I WANT???
Get RIDIN BIG RADIO here, perfect for you new iPhone & iPod!!!
Click here to get your own player.