Hitting you, not once, not twice but three times today with this hit!
First up, Tabi Bonney's The Jetsetter Mixtape
1. jetsetter
2. beeper vibrate
3. best i ever had remix feat Drake
4. rich kids
5. reach for the sky feat Haziq Ali / U-n-i
6. go hard
7. dope feat Carter
8. style on em
9. all around the world remix feat Lloyd / Lil Wayne
10. weekend girl remix feat Luegar
11. i get money remix feat Raheem Devaughn
12. give it up feat DiCapo
13. syce it
14. escalator
15. drugs feat Luegar
16. the pocket
17. do my thang
18. top
19. new cap city feat Big G20. beat rock
21. the come up
22. fever feat raheem devaughn
23. kick rocks remix by Judah
24. tight
25. fly guy anthem
26. nuthin but a hero
27. love me (lets get drunk) feat The Crybabies
28. broken hearts parade remix feat
Good Charlotte
29. bonafide feat Wale
30. the pocket remix by Marc Nfinit
DOWNLOAD THE JETSETTER MIXTAPE
Next up, fresh off Rock The Bells 2009 tour with Mr. Tabi Bonney, we commemorated a historic summer of hip-hop with this one!
DJ DUB
ROCK THE BELLS 2009
SUPERNATURAL - INTRO
slaughterhouse - woodstock
NAS - FILM
NAS - AFROBEAT
the roots how i got over
TABI BONNEY - NUTHIN BUT A HERO
EVIDENCE / ALCHEMIST - JUST STEP
RAEKWON / GHOSTFACE KILLAH / METHOD - HOUSE OF FLYING DAGGERS
MOP / STYLES P - BANG TIME
CYPRESS HILL - HAND ON THE PUMP
NAS - NAS IS LIKE
THE ROOTS - THE NEXT MOVEMENT
COMMON - THE PEOPLE
BUSTA RHYMES - PUT YOUR HANDS
ICE CUBE - JACKIN FOR BEATS
HOUSE OF PAIN - JUMP AROUND
KRS-ONE - STEP INTO A WORLD
ALCHEMIST / PRODIGY - HOLD YOU DOWN
MOP - COLD AS ICE
SLUM VILLAGE - FALL IN LOVE
RAEKWON - INCARCERATED SCARFACES
DILATED PEOPLES - WHEN WORSE COMES TO WORST
BLACK MOON - I GOT CHA OPIN
TALIB KWELI / HI-TEK - THE BLAST
DAMIAN MARLEY - WELCOME TO JAMROCK
LAW / MC EIHT / SEAN PRICE - DEATH
T.H.E. W.E.A.K. - FAST MOTION
KNAAN / CHALI 2NA / MOS DEF - AMERICA
SLUM VILLAGE - THE LOOK OF LOVE (REMIX)
DOWNLOAD ROCK THE BELLS 2009 MIXTAPE
Last but not least, check out Dubemy Piven as we present to you The Goods, freshest shit in the streets, you couldn't step in it fast enough. LOL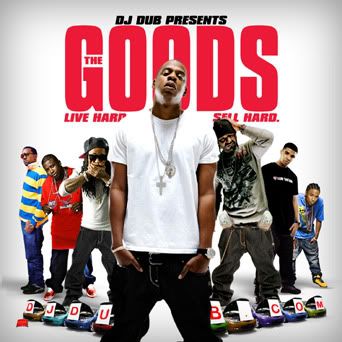 DJ DUB PRESENTS...
THE GOODS
JAY-Z / KANYE WEST / RIHANNA - RUN THIS TOWN
LIL WAYNE - MILLION DOLLAR BABY
AMERIE / NAS / JADAKISS / RICK ROSS - WHY R U (REMIX)
FABOLOUS / DRAKE - THROW IT IN THE BAG (REMIX)
WALE - PRETTY GIRLS
SLAUGHTERHOUSE - ONSLAUGHT 2
LIL WAYNE / DRAKE - STUNT HARD
DORROUGH / JIM JONES / SOULJA BOY / JD / RICH BOY / SLIM THUG - ICE CREAM PAINT JOB (REMIX)
PLIES / JIM JONES / dramills / CORY GUNZ - PLENTY MONEY (REMIX)
TRIPLE CS / RICK ROSS/ YOUNG JEEZY - ERRDAY
CURRENCY - RAPPER WEED
ti / young dro - UP ON IT
YUNG LA / YOUNG DRO - WE PARTY
LUDACRIS / LIL SCRAPPY - ADDICTED TO MONEY
THE LOX - MOVE
TREY SONGZ / TABI BONNEY / DRAKE - BEST I EVER HAD (REMIX)
CONSEQUENCE / KANYE WEST / JOHN LEGEND - WHATEVER YOU WANT
GHOSTFACE KILLAH / RAHEEM DEVAUGHN - BABY
HURRICANE CHRIS / MARIO - HEADBOARD
TAB I BONNEY / RAHEEM DEVAUGHN - THE FEVER
BONUS RNB
CHRIS BROWN - SHE DO IT ON ME LIKE
USHER / PHARRELL - CERTIFIED
RYAN LESLIE / PUSHA T - SOMETHING THAT I LIKE
DRAKE / KANYE WEST / LIL WAYNE / EMINEM - FOREVER
WWW.DJDUB.COM
DOWNLOAD THE GOODS MIXTAPE NOW